Out with the old, in with the new. 2021 is all about a fresh start after the runaround 2020 gave us. The post-holiday sales are going on everywhere, The Krazy Coupon Lady covers all the sales at big stores. Jump on the trend and clear out your shop before the new year. It's the perfect way to restock and get rid of those holiday-themed items. Here are some ideas for a post-holiday consignment sale.
Post-holiday 21% off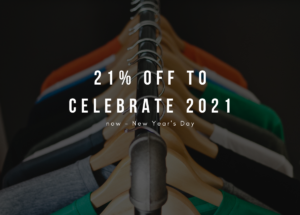 The best way to ring in the new year is with a themed sale, have a 21% off sale to celebrate 2021. Everyone is celebrating the new year after the year we just had, bring those happy customers in for this sale. Don't forget to have a Shopify sale as well, if you don't have your online shop yet 2021 is the best year to start. SimpleConsign makes the transition incredibly easy. Chat with us if you've been considering this.
Buy 1 get 1 post-holiday consignment sale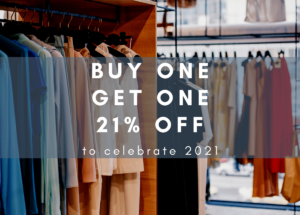 Everyone loves a BOGO, have this sale with all items in your shop or separate them by categories such as jeans or sweaters. You can decide if the sale is "buy 1 get 1 half off" or maybe combine ideas and do a "buy 1 get 1 21% off." This is another sale that's great for your online website. These sorts of sales are excellent, the customer will pay full price for at least one item which makes it a little easier on your shop. This sale is a people pleaser and is sure to get your shop cleared out for the new year.
Post-holiday consignment grab bag sale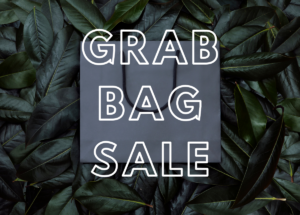 A grab bag sale is a creative way to clear out your shop. If you're not familiar with this kind of sale, basically you provide the customer with a bag and they can fill it with as many items as it fits for a price you choose. You can even have this sale for a certain section in your shop if you feel you have overstock on some specific items. A fun idea is to also have this for your holiday-themed items. People will buy holiday items at any time if it's for a good price and will get them ahead for the next year.
Facebook Live auction
Another fun way to sell items is a Facebook Live auction. A lot of people didn't leave their homes for the holidays to remain safe, they will jump at any opportunity for a face to face interaction even if it's virtual. Get rid of those old items and say goodbye to 2020! Finishing off the year selling on Facebook Live is more than fitting and it can be something fun you can incorporate into your 2021 plan.
Here are some ideas on how to attract last-minute shoppers.
Get unlimited terminals & consignors with SimpleConsign.
Streamline your operations and grow your store with our feature-rich, user-friendly POS.