Resale clienteling shows your best customers you care
Believe it or not, the term "clienteling" has been floating around for some time now. What is resale clienteling? Is it even important? Clienteling: a technique used by sales associates to establish long-term relationships with key customers based on data about their preferences, behaviors and purchases. In simpler terms, it's paying close attention to what your customers like to buy. Plus, how they like to buy it. By building relationships, your customers get the feeling of a personal shopping experience.
The best example of clienteling
Many years ago, when I sold menswear for Wolff's Clothiers in St. Louis, I worked with a gentlemen's gentleman. He dressed impeccably. He spoke intelligently and served his customers attentively. Men would come from miles around to have him dress them in the latest Hart Schaffner Marx suits and accessories. Rarely did he turn his customers over to me to help them with a shirt or tie purchase. He walked these men through every step of the buying process. Plus, he had a secret. He kept a small, weathered notebook that had details on every one of his best customers. Now, that's clienteling.
Quality vs. Quantity
With the rise of online shopping, same-day delivery and no-questions-asked returns, resale and consignment shops have to fight back. Use your strengths of limited merchandise and personal service. Stella Service, which specializes in mystery shopping, suggests "creating a culture of customer experience excellence." Resale clienteling requires one-on-one conversations between a shopper and the resale sales associate. The time spent with each customer increases, and so do the sales. In fact, some retail stores are rewarding sales associates who work to build stronger relationships with top customers.
Implementing resale clienteling or personalized shopping
The #1 way to begin clienteling is through customer data you already have at your fingertips. Your consignment software offers you a wealth of information. Your shop should know your top customers, their purchase history and even when they buy. By keeping close tabs on your customers and following up with them on a regular basis, you're giving shoppers a reason to return.
Making shopping personal
Nowadays, stores winning at personalized shopping use top online technology. Retail Info Systems (RIS) recently listed The top 10 retailers that do personalization best. Stores from Sephora to even Home Depot are experimenting with ways to make shopping more individual. For instance, 3D body scanning is now available on a free app called Nettelo. Your customers scan their image and automatically receive body measurements as well as their correct clothing size.
SimpleConsign's new Customer Notes feature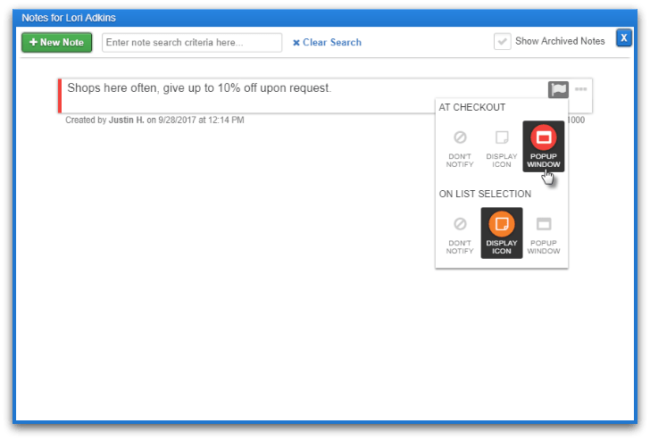 Although we don't offer a 3D body scanning app, SimpleConsign recently released a new feature called Customer Notes. It's designed to help resale shops keep better records of their customers. Salespeople enter individual notes on each customer. They can choose to have a message pop-up at checkout. Or, simply notify the shop that additional information is available. It's the perfect feature to begin building detailed customer profiles. Plus, our Simple Photo App let's you automatically add a customer photo too!
The importance of clienteling
A recent article in USA Today stated, "It is vital that retailers (resalers too) make it worthwhile for consumers to visit their stores. This means making stores about more than just a place to sell product but also to inspire, engage, educate and excite." The most important word is "engage." Be sure you use resale clienteling as just one of many ways you choose to engage your customers. You will be grateful for those loyal resale ambassadors in the future.
If you're currently not a SimpleConsign customer, but would like to take a closer look, please don't hesitate to contact us at 888-860-8094.
Get unlimited terminals & consignors with SimpleConsign.
Streamline your operations and grow your store with our feature-rich, user-friendly POS.