Improve your resale business the old-fashioned way
Let me reveal my age once again. Does anyone else remember the song by Paul Simon, "50 Ways to Leave Your Lover"? The 1976 song lyrics, "Just slip out the back Jack, make a new plan, Stan," made it all sound so easy. I'm not sure of the intent, but the song was written after Simon's divorce from his first wife. In light of wanting to help you improve your resale business, I've decided to make it easy too. Here are over 150 ways to leave the old resale business behind to start out fresh and new for 2018. But, you'll have to do it the old-fashioned way, by reading Raising the Resale Bar. I've divided the blog into 5 different sections. Pick what you're most interested in learning.
Getting Started
Almost half of the articles in Raising the Resale Bar are designed to help you start your own resale business. Many of them review the basics of business ownership, but offer advice specifically for the second-hand industry. Whether you are new to the industry or have owned your shop for quite awhile, reviewing the basics will always help improve your resale business. Here's a sample of what you will find…
Expanding Your Business
Your goal, like every business owner, is to grow. There are some definite "tricks of the trade" when it comes to expanding a second-hand business. In this section, I had several guest authors give some great advice about taking your business to the next level. See what they have to say…
Tips for Success
At Traxia, we believe resale needs to be equipped with the same information that the retail industry has. That's why the majority of Raising the Resale Bar articles give you tips for running a successful business. From marketing ideas to inventory management, we're covering the topics you need to succeed. Some of the articles you'll find are…
Resale Partners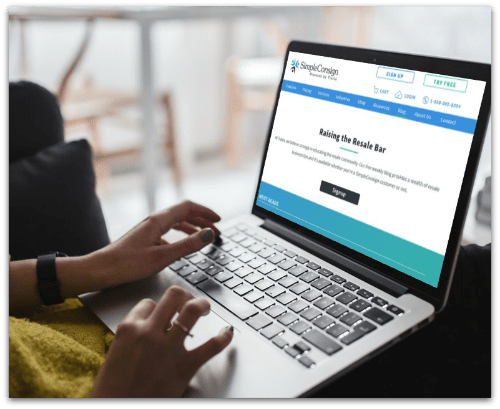 This is my newest category and as you can see, I don't have nearly as many interviews as I'd like. Many readers have asked about other shops and how they got started in the resale business. Here are 3 examples of some of the wonderful SimpleConsign customers we work with…
Personal Stories
Okay, yes, I like talking about us too. We're an interesting bunch. In fact, I plan on doing a feature article next year on each one of our staff members so you can get to know us just a little better. Here's a sneak peak…
Get unlimited terminals & consignors with SimpleConsign.
Streamline your operations and grow your store with our feature-rich, user-friendly POS.