Teach Generation Z consignors how to make money early
Now that resale and consignment shopping have joined the mainstream, it's time to begin raising up the next generation of consignors. Generation Z kids were born in the mid- 90's to the early 2000's. The oldest are in their early 20's, but it's never too early to begin teaching about the benefits of consigning and shopping at your store. Generation Z is extremely careful with their finances. They've seen the devastation of the recession and the incredible college debt their older brothers and sisters have. They want no part of it. This group demands good value for their money. Which, of course, means consignment. Why not begin teaching Generation Z consignors and shoppers now? Encourage their desire to make money and their need for beautiful clothing at a great price.
For the younger ones
The youngest Gen Z's are just reaching their teens. For years, they've studied how it's their responsibility to take care of the planet. From carbon footprints to greenhouse gases, they are constantly learning different ways to conserve energy and take care of their neighbor. Although it isn't taught in the schools, purchasing consigned clothing is one of the many ways to reuse, recycle and reduce waste.
If you're a clothing consignment shop, take a day where you share statistics from the textile industry. Secondary Materials and Recycled Textiles offers the following infographic to teach about textile recycling. In addition, they have some fun children's lessons on how much it costs to buy used clothing.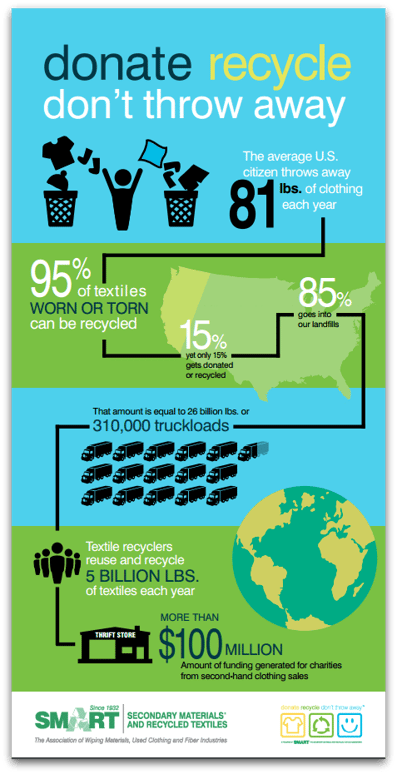 EcoWatch also has educational materials that show the dangers of fast fashion to the environment. Greenpeace has gone so far as to rate the clothing companies that are and are not attempting to limit the toxic chemicals in their clothing manufacturing. The good list of businesses removing chemicals includes brands like Adidas, Burberry, H & M and Levi Strauss. Tell your consignors your looking for those brands and share with Generation Z why you're offering them.
Attract the younger Gen Z's through fun events and special incentives
I know many of you have Rewards Programs. We talked about the importance of using them to build customer loyalty in last week's post. Why not do the same for potential Generation Z consignors? Consider using one display rack or a small section of your shop that's strictly merchandise for young shoppers from young consignors. Make it a special club or a specific event held a couple of times a year. Reward your youngest shoppers with special discounts or extra loyalty points for choosing consignment over stores at the mall. Begin to build a consignment following.
Do you have a really popular young athlete, musician, designer or blogger in your community? Bring them in to your store for an event. Offer snacks and have a number of fun projects they can participate in. For instance, teach them how to upcycle an old t-shirt, run an eco-essay contest or sponsor a canned food drive. Be sure to post a ton of pictures on social media. Any of these would be perfect back-to-school promotions.
For the older Gen Z's
If you want to court the older Generation Z's, you've got to find out what they're reading. In January of this year, Who What Wear put together a list of the best bloggers for every age of fashion. There were 3 listed for 20 somethings. One, Shine By Three, is quoted as saying, "Knowing where to put your hard-earned cash in the current retail climate where branding is everything and cost can have absolutely no correlation to quality, can be bloody stressful." Another blogger, The Blonde Salad, covers everything from clothing and hairstyle trends to vacations and people in the news. All 3 are a fascinating look at the next generation.
Nab the older Gen Z's through digital
What do you do to get these 20 somethings shopping in your store and consigning their items? This is where digital comes in. When a 20 something enters your shop, approach them with your iPad or smart phone and begin taking notes. Keep track of what they like and what they buy. With SimpleConsign's photo app, you can even take their photo and add it immediately to their account. Be ready the next time they come in to review and revise.
Stay informed on the brands that interest them and message your consignors to bring in those items. Set up a Facebook page that's for age 30 and under only. Promote those brands that appeal to 20 somethings and encourage sign ups to get information on new arrivals first. Especially encourage Generation Z consignors to bring in merchandise that appeals to that group. Use Instagram and Twitter to highlight current Gen Z shoppers and their latest finds. Host a fashion show for back-to-school in the fall.
Does it sound like too much trouble?
This may sound like a lot of work for very little immediate gain. However, each generation from here on out is fully aware of the beast known as Amazon. If you are going to compete, you've got to stay relevant. Whether you target the age group that's learning more and more about our environment or you go after young adults, make sure your salespeople can talk the talk. Begin teaching Generation Z consignors and shoppers early and you'll have customers for life.
P.S. Even the blogger for the 60 somethings, Not Dead Yet Style, in an article titled "Almost Free Frugal Fridays" listed going on a "rambling session at a thrift shop" as one of the best ways to spend an almost free frugal Friday.
Get unlimited terminals & consignors with SimpleConsign.
Streamline your operations and grow your store with our feature-rich, user-friendly POS.