Decorating Your Shop for the Holidays
December 9, 2020
December is a busy month and it can be hard to know how to decorate your shop for the holidays. There are a lot of religious holidays going on which makes it difficult to be inclusive. Of course, you're not expected to cater to every celebration but focusing on some major ones is a great place to start. I have found that it can be quite easy by incorporating certain colors into your regular decorations. It's all about getting creative! Here a few ideas for decorating your shop for the holidays based on the different celebrations happening.
Decorate your shop for Christmas
Christmas is a Christian holiday based around the celebration of the birth of Jesus Christ on December 25th. Although it is a religious holiday it is also commonly celebrated just as a cultural celebration. Meaning there are many different ways to celebrate Christmas that vary by region. Australians experience Christmas in the summer. Since Australians have summer in December, they celebrate Christmas quite differently. Learn more about the Aussie Christmas here.
There are many ways to decorate for an American Christmas, here are some ideas:
Christmas lights

Christmas lights are an essential way to make any space look cozy and festive. This also isn't specific to any holiday, it became popular because these lights originally are put on Christmas trees. At some point, they migrated to walls, windows, and any other place you can imagine.
Snow

Real snow isn't necessary to have this effect, they sell sprays to spray on trees and/or windows to make it look like fresh snow. This Pinterest page has all the right ideas when it comes to decorating with artificial snow.
 Decorate your shop for Hanukkah
Hanukkah is an eight-day Jewish holiday after the re-dedication of the Second Temple in Jerusalem. The holiday came about because the witnesses of the re-dedication saw it as a miracle as the candles burned for eight days. Based on the amount of untainted oil, they were only said to last for a single day. It takes place 25th of Kislev on the Hebrew calendar. It is also known as the Festival of Lights.
Hanukkah is just as easy to decorate for as Christmas, especially because you can decorate for both of these in a subtle way! Here are some ideas:
Blue and Silver Ornaments

If you are already decorating for Christmas but want to commemorate Hanukkah just use some blue and silver ornaments on your tree! This is an amazing way to be inclusive that some people may not even catch! You can also decorate your wreaths with blue and silver ornaments.
Garlands

This decoration is so easy to display, whether you place it at your store's counter, on a shelf, or near a window. It looks good and makes your Jewish customers feel welcome! There are plenty of options such as a blue garland or a dreidel pom garland.
Decorate your shop for Kwanzaa
Kwanzaa is a holiday celebrated by African Americans which is held from December 26th to January 1st. The holiday is a time to reflect on basic principles and to share and enjoy the fruits of one's labor. The name comes from "matunda ya kwanza" in Swahili which translates to first fruits. It was originally developed by Maulana Ron Karenga and the U.S. Organization in 1966 originally as research African harvest celebrations.
Much like Hanukkah and Christmas, these can also be combined to celebrate Kwanzaa. Here are some examples:
Red, black, and green decorations

Do these colors sound familiar? Well, that's how easy this is! Represent some African culture by incorporating the two classic Christmas colors and adding black decorations.
Bendera ya Taifa (national flag)

Kwanzaa's official flag represents the struggle for freedom. It is traditionally hung facing east. Just like in the example above, you can create your own form of representation of the flag with its colors.
Decorate your shop for Ōmisoka
Ōmisoka is a holiday celebrated on New Year's Eve. This holiday is the second most important in Japanese tradition. The tradition celebrates the end of the year and is celebrated by eating a bowl of Toshi Koshi-soba or Toshi Koshi-udon. This tradition is based on eating long noodles to cross over from one year to the next.
The zodiac is the biggest part of this holiday, here are some ways to decorate:
Kagami mochi

It is common to decorate with kagami mochi with the zodiac of the coming year. I, unfortunately, didn't find many options online but I'm sure this can be found in local stores in your area.
The new year's zodiac

Decorate with the coming year's zodiac, for 2021 this would be the year of the Metal Ox. This is another subtle way to represent the Japanese tradition.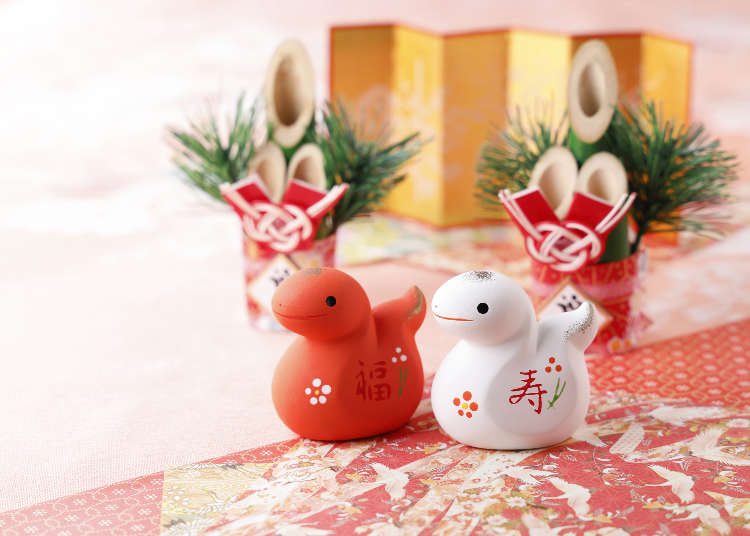 There's plenty of ways of decorating your shop for the holidays. As a small shop, decorating for your community's holidays is a great idea. Get to know your own community to observe where you can get involved.
Need more holiday tips? Click here.
Paulette Squicimari
Weekly Newsletter
Receive tips, how-to guides, and more
Yes Please!