Yes, I had a bat in my bathroom
I had just finished my morning tea and was headed to our master bathroom to dress for work. My husband had showered, dressed and eaten all before I rose out of bed. My turn. As I slid open the pocket door to the bathroom, I noticed something brown on the floor. I approached and found it breathing. I frantically closed the door and called my husband, "Oh Lord, it's a bat! Come home! There's a bat in the bathroom!" You're probably wondering what this has to do with learning how to write Consignor Contracts. I'll show you.
Don't leave the door open. You never know what will fly in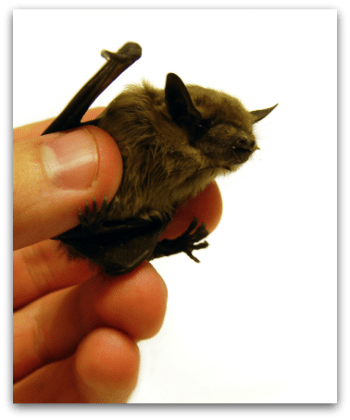 A full week before discovering the bat, we'd had a glorious evening visit from 12 of my husband's cousins. The weather was gorgeous and because there were so many of us, we turned the AC off and left the door to our deck wide open. So, that explains how the bat got in. The same is true for your consignment shop. If you leave the door wide open, agreeing to accept everything and anything, you never know what's coming through. Make your consignor contracts detailed and clear. Here's how.
Essentials for all Consignor Contracts
No matter what type of merchandise you sell, all consignor contracts should include certain essential information. Big or small, your store needs to state specifics to minimize confusion. Plus, the more detail you provide, the less disagreements you'll have. Add your store name, address, phone and email to the contract because consignors may have items at more than one store.
Consignment Period and Split
State clearly the period of time you will consign their items. Most stores offer a 90-day selling period. However, others may only agree to a 60-day consignment period. Clearly list your store splits. Whether you choose a 40/60, 50/50 or tiered split, let the consignor know what to expect. If you allow, let them know they'll receive a higher percentage for using store credit.
Pricing and Markdowns
Are you willing to let the consignor help you price their own items? Some stores do. Others state very clearly that they set the prices based on current trends, condition and brand. If you have a set discounting schedule, make that clear as well. Add a statement that says you reserve the right to reduce the selling price at any time. Include the right to add additional markdowns for special sales or promotions. If necessary, add a statement to your contract that tells the consignor they will receive their percentage based on the final selling price.
Payments
How consignors are paid is one place where consignment stores really differ. One store never mails checks and requires consignors to pick up funds no later than 90 days after the end of the contract. Other stores pay consignors only when they have a balance of a particular amount. This could range anywhere from $10 to over $100. Often stores that are willing to mail checks charge a nominal fee (perhaps $1) if the consignor chooses not to come to the store. One store requires the consignor to contact them first to receive payment. Make sure your consignor contracts clearly define what will happen to the money if the consignor doesn't pick up their check. A statement such as "unclaimed monies will be forfeited 6 months after the consignment period ends" puts the responsibility clearly on the consignor's shoulders.
Intake Conditions
Almost all clothing consignment stores require clothing be brought in on hangers. Those hangers are not returned so consider providing a consignor with a bundle of hangers for their next consignment. Most furniture consignment stores require thorough photographs before accepting any items. Again, this is an area that will help you avoid future arguments. State clearly, on your contract or online, the brands you do and don't accept. Make it clear, merchandise that is no longer in style, not cleaned and pressed, has a foul odor or is stained and damaged will not be accepted. If you only accept items seasonally, publish those dates specifically.
Expired Items
Many consignor contracts state merchandise remaining after the consignment period automatically becomes the property of the consignment store. Some stores allow for a "grace period." Others require the consignor to keep track of the selling period. They are also responsible for retrieving their items before the end of the contract. SimpleConsign offers an upgraded consignor access called Consignor Central. When a consignor logs into their account, it automatically notifies them of expiration dates.
Fees
If your store plans on adding a buyer's fee, paid by the purchaser, make that known. This reduces confusion about the final percentage the consignor receives. If you offer online consignor access, charge a small monthly fee for consignors to view their accounts. SimpleConsign's consignor access is offered in real time. State clearly any fees for pick-up, in-home evaluation or services required to repair or clean merchandise. Read 5 consignment fees to boost your bottom line.
In the End
I made the mistake of emailing my fellow Traxia team mates to tell them I couldn't come to work because there was a bat in my bathroom. When my husband came home during lunch, he attempted to find the bat. But, no such luck. I was able to change my clothes, brush my teeth and put on a small amount of makeup while my husband stood guard. When I finally arrived at work, my office was covered in black plastic bats. Bats were on the ceiling, in my desk, on my printer…everywhere. Yes, they're a lovely bunch of guys!
At the end of your consignor contracts, inform the consignor that you are not to be held responsible for missing or damaged merchandise for any reason. They must realize the risk is theirs if they choose to leave their items with you. Make sure you have a complete list of their consigned items and have them sign. Get everything wrapped up tightly.
When he returned home after work, my husband once again attempted to find the bat. Sure enough, it was curled up in a laundry basket under his painting clothes. He gently scooped it up with a T-shirt and carried it outside. Be careful when you leave your doors completely open. Whether it's a little brown bat or consigned items, you never know what will come through your door.
Get unlimited terminals & consignors with SimpleConsign.
Streamline your operations and grow your store with our feature-rich, user-friendly POS.