Keeping up your consignment store's reputation
From 2005 to 2010, I worked as the Children's Ministry Director for our church. Other than a love for kids and teaching, I had no other experience. During that time, one of our pastors humorously asked us to take the "Famous World Leader" test. Your answers determined what world leader most closely represented you. I took the test 4 times and each time my answer was the same. Yes, the personality of the children's ministry leader was most closely associated with… Saddam Hussein. Needless to say, my reputation was altered immediately. Your consignment store's reputation is on the line every day. Dealing with customers and consignors can be exhausting. Everybody has an opinion. Plus, social media offers the ability to share those opinions loudly. Take these actions to guarantee your store's reputation stays strong.
Taking stock
Is your store a respected business in your community? Similarly, are you personally respected by your consignors and customers? Now's the time to take a long, objective view of your store. In 3 steps to avoid consignment tunnel vision, I urge you to view your physical store as a shopper. Read and respond to all of your online reviews. Listen closely to the interactions between salespeople and customers. In addition, look at consignor activity. Do the same consignors regularly bring you items or is it often "one-and-done?" Your consignment store's reputation is much easier to maintain rather than rebuild. Moreover, few stores recover from continuous bad publicity.
Being transparent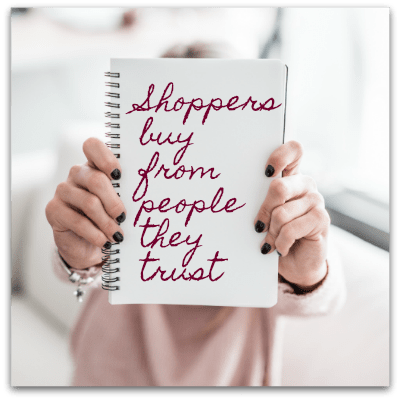 Big box stores like Macy's, Home Depot or Kohl's weather the storm of bad publicity or a lousy employee because shoppers trust the corporation. Unfortunately, smaller independent stores don't fare as well. Review every policy in your store. Put them all in writing. Every consignor should know your split, discount schedule, payout schedule and donation policy upfront. Similarly, contracts should be clear and concise. Read How to write Consignor Contracts (aka don't get bats in your bathroom). If you're completely transparent up front, there will be no room for arguing later.
Responding to criticism
Consignment store ownership requires humility. It's never easy to swallow our pride and say, "I'm sorry." Your store is your baby. You started it, nurtured it and watched it grow. Often, the mama bear comes out when someone says something negative. However, by winning one battle, you're likely to lose the social media war. Studies show shoppers like to see negative reviews about a store. The store becomes real, relatable. On the other hand, they like it even more when a store responds graciously, offering an apology and a solution. It isn't easy. It never will be.
Get my Free Trial of SimpleConsign
Authenticate when necessary
One Yelp reviewer wrote, "It's 'buyer beware' when it comes to pre-owned, no matter how reputable the store is. I bought a pair of Christian Louboutins and it turns out they are replicas. At $250, that's way too much for a fake." Building trust takes time. Honesty is an earned quality. If you sell high-end merchandise, have everything authenticated. SimpleConsign has partnered with Entrupy, a technology-based authentication service. Deanna Thompson of Entrupy shares her knowledge in Protecting yourself from counterfeit handbags. Authentication protects everyone. As one store owner put it, "Our customers love us, but our consignors hate us."
Complacency is your business killer
In all of the above examples, being pro-active is the best way to maintain your consignment store's reputation. Resale competition is building. There's no room for a poor attitude. Think like your customer. In 6 simple strategies to snag a savvy shopper, I take the shopper's viewpoint. We were planning our daughter's wedding and certain services made a huge impression on me. Find what your customers are looking for and implement it. Train your staff to offer top-notch service. Don't allow yourself to become complacent. If you need a break from your business, find time right after the first of the year. Rejuvenate. Refresh. Remember why you got into the consignment business in the first place.
P.S. I took the test again recently and got Adolf Hitler.
Get unlimited terminals & consignors with SimpleConsign.
Streamline your operations and grow your store with our feature-rich, user-friendly POS.