The do's and don'ts to a better consignment Facebook page
There are 3 things in life you can be sure of …taxes, death and constant changes to your FB page. I have a love-hate relationship with Facebook. It's one of the best places to find potential customers, but dog-gone-it, Facebook keeps changing the rules! Here are a few things you must do and a few you should never do to improve your consignment Facebook page. For additional reading about improving your store's Facebook page, read 8 Facebook failures you don't want to make.
The Do's & The Don'ts
1.) Do make sure your Profile Image fits
As of this post, the ideal Facebook profile photo size is 360 x 360 pixels. The minimum size for a profile photo is 180 x 180 pixels. If possible, use your logo for your consignment Facebook profile image. If it's horizontal (like SimpleConsign's), find a way to stack it or just use part of it. You'd be surprised at the number of shops that don't check their profile image before posting. Remember, this is part of your overall branding as a professional, savvy consignment store.
2.) Don't forget to check your Cover Image
Your consignment Facebook Cover Photo or Banner Image is the first thing a customer sees. Make sure the image is eye-catching and the proper size. Below is an example of a great Cover Image. The problem is it's still there in the month of November when voting ended in June. If necessary, keep a marketing calendar that reminds you to change your image. According to Facebook, your cover image should be 820 pixels wide by 312 pixels tall for a desktop computer. Make it 640 pixels by 360 pixels for smartphones. Now, here's the problem, what if you want to use the same photo for both and have it look great? Louise Myers Visual Social Media has the answer. She even provides free templates to get just the right image size. Don't skimp here. This image is perfect for conveying your brand and style. Take your time. After you've got the size down, be sure to change the image every couple of months too.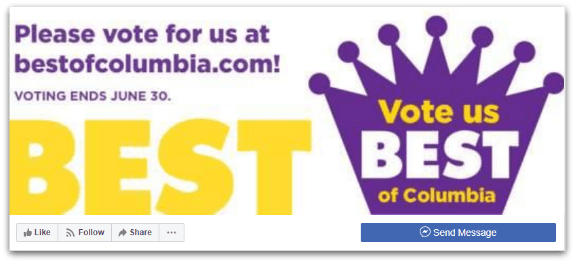 3.) Do add all of your store information
Believe it or not, I've seen consignment Facebook pages that don't include address information, phone numbers or email addresses. Nothing. That would make sense if you are an online store only, but if you have a brick & mortar location, by all means add your address, phone and email! You want to make it as easy as possible for shoppers to find you. In fact, if there's a known landmark nearby, add that too.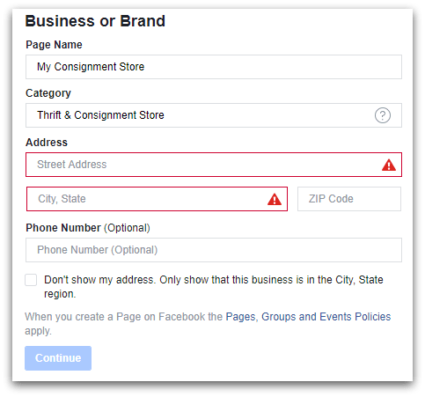 Choose a Category. I suggest "Thrift & Consignment Store." If shoppers are specifically looking for secondhand stores in their area, yours will be one of the ones shown.
Get my Free Trial of SimpleConsign
4.) Don't forget to check your links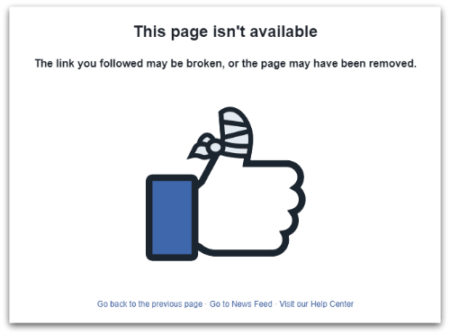 For consistent marketing, check the links to all of your online advertising. Many times, I'll view a consignment store's website, click on their Facebook link and find "This Page Isn't Available." Or worse yet, the dreaded "Page Not Found" link.
5.) Do pin important posts to the top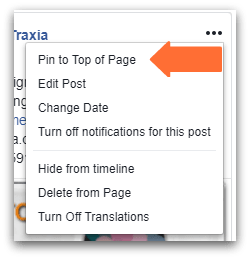 When you have an exciting announcement, special sale or important information, it's a good idea to pin that post to the very top of your consignment Facebook page. However, make sure you unpin the post when the date has passed. If not, shoppers will come to your page, see the outdated post and immediately think you're not an active business. They might even mistake you for being closed. Look carefully at your top posts to be sure they're up-to-date.
6.) Don't forget to check your spelling
It seems simple enough, but you'd be surprised at the number of posts where spelling isn't checked. Here's an example, "Come in (the store name) today and s unique items not Lund anywhere else. One of a kinds. And big discounts on large pieces of furniture. We've got what your. Looking for." Simple to correct if you proofread. Take your time. Review your post. Incorrect spelling and grammar looks unprofessional. You're serious about what you do so present yourself that way.
Get unlimited terminals & consignors with SimpleConsign.
Streamline your operations and grow your store with our feature-rich, user-friendly POS.